Jeg må være planetens siste person som prøver GH - har vært ganske skeptisk til hele opplegget, selv om jeg ikke spiller så mye bass lengre så har jeg prøvd å opprettholde en viss standard men etter litt frenetisk trykking i stua har jeg innsett at
xkcd.com
har rett: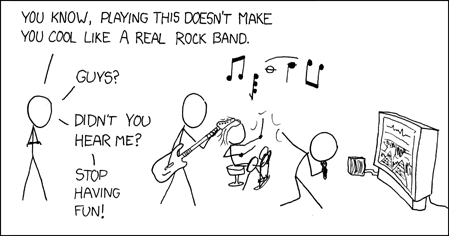 I'm gonna have to add something to the strum bar so it
makes a clicky sound like the old controllers. I'm so used to the
feedback; the silence throws me off.
Jeg vil bare kommentere én ting fra spillet: "Twenty minute free-form jazz odysseys are ok!"
Oppdatering: Hvis denne lista stemmer så ser Rock Band 2 helt konge ut! Håper tverrfløyta er wireless..