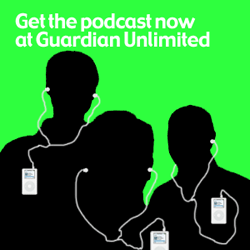 The first 2 episodes of 24 season 5 (4 hours total) were available this morning!
Episode 7
of
Ricky Gervais Show
is also out! I found a BT seed of all
the episodes from the archives
of the show over at XFM (probably something like 35 hours..) and two really long shows from BBC radio and some more stuff - have a look over at mininova.org.
Update: Just came over this: Some
animations of Ricky, Stephen and Karl
, pretty funny.